Three tips for designing 3D prints
There is a lot of talk about how 3D printing is the production method of the future. Though, industrial 3D printing is already an established method, so now is the time for designers to get interested. 3D printing as a production method is in many cases a very cost-effective and functional option, although traditional methods certainly have their place. In this blog, we'll give you three tips for you to consider when designing 3D prints or when you are interested in getting started!
TURN FAMILIAR IDEAS UPSIDE DOWN
In the past, different products and their parts had to be designed in terms of how they could be feasibly produced. Today, 3D printing offers designers unlimited possibilities. Production no longer dictates how a product can be made; rather, it's the form and function of the product that counts. 3D printing as a production method is, in many ways, the complete opposite of traditional production methods. The costs in machining, for example, come from purchasing raw materials and doing the actual machining. The less you have to machine an aluminium cube, the lower the costs. Components produced by machining are, in practice, usually designed to be as simple as possible because more intricate shapes raise costs. This is why it is not worth removing the excess material (up to 30–70%) from the components, even though it has no bearing on the product's functionality – removing it would raise costs.
The costs in 3D printing are created in a completely different way. They depend on the amount of material you use and the size of the component you make. The more material you use, the higher the production costs. The idea in 3D printing is to retain in the component only the material necessary for its core function. This means that, unlike in machining, complexity costs practically nothing in 3D printing. In fact, a component with an intricate shape may be less expensive to make than a simple shape if less material is needed to make it.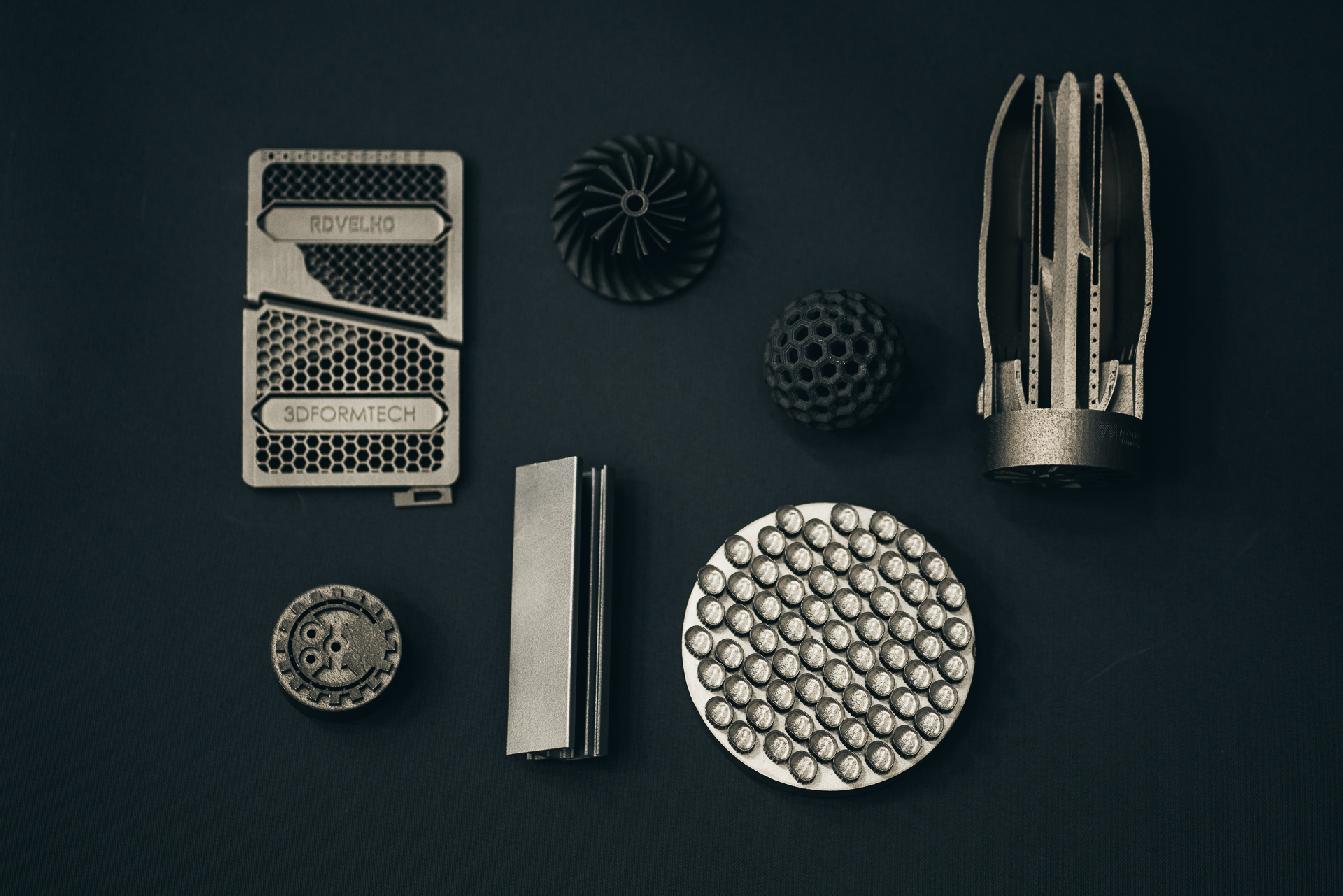 If you, as a designer, are used to the fact that complexity is like a red rag to a bull because you have to design different components with their feasibility for production in mind, 3D printing will let you unleash your creativity. We're talking about the unlimited possibilities of 3D printing for good a reason. You decide what you want the component to be: will it contain mechanisms, fastening systems, geometry, intricate shapes, or certain types of configurations? Does the material have to be stiff or flexible? Lightweight, durable, hard or soft? Does it need to withstand hot temperatures, should it comply with strict, sector-specific standards? We will tell you how to do all this with 3D printing.
SAVE COSTS
Costs are always of interest, whether you have a prototype or an end product on your designing desk. One big difference between 3D printing and other production methods is its cost-efficiency that comes from flexibility, speed and low production risks, for example. The price of 3D printing is formed in a slightly different way than in traditional production methods where the production of a single mould involves a considerable amount of money.
The volume of the material used and the capacity of the 3D printing equipment largely determine the price of 3D printing. It is also affected by the number of copies to be printed. Also, let's not forget the designing work, which incurs costs on production. Albeit, good designing always pays off as a cheaper production stage. At this point, it is also extremely important to understand the cost structure of 3D prints. Many people are only concerned with the start-up costs of producing 3D prints, which can sometimes be slightly higher than other methods. However, you should look at the cost structure from the point of view of the product's entire lifecycle. A 3D printed component may have more functions and thus a longer service life, which saves money in the long run. You, as a manufacturer, also get a return on your investment with the added value the component renders for your business.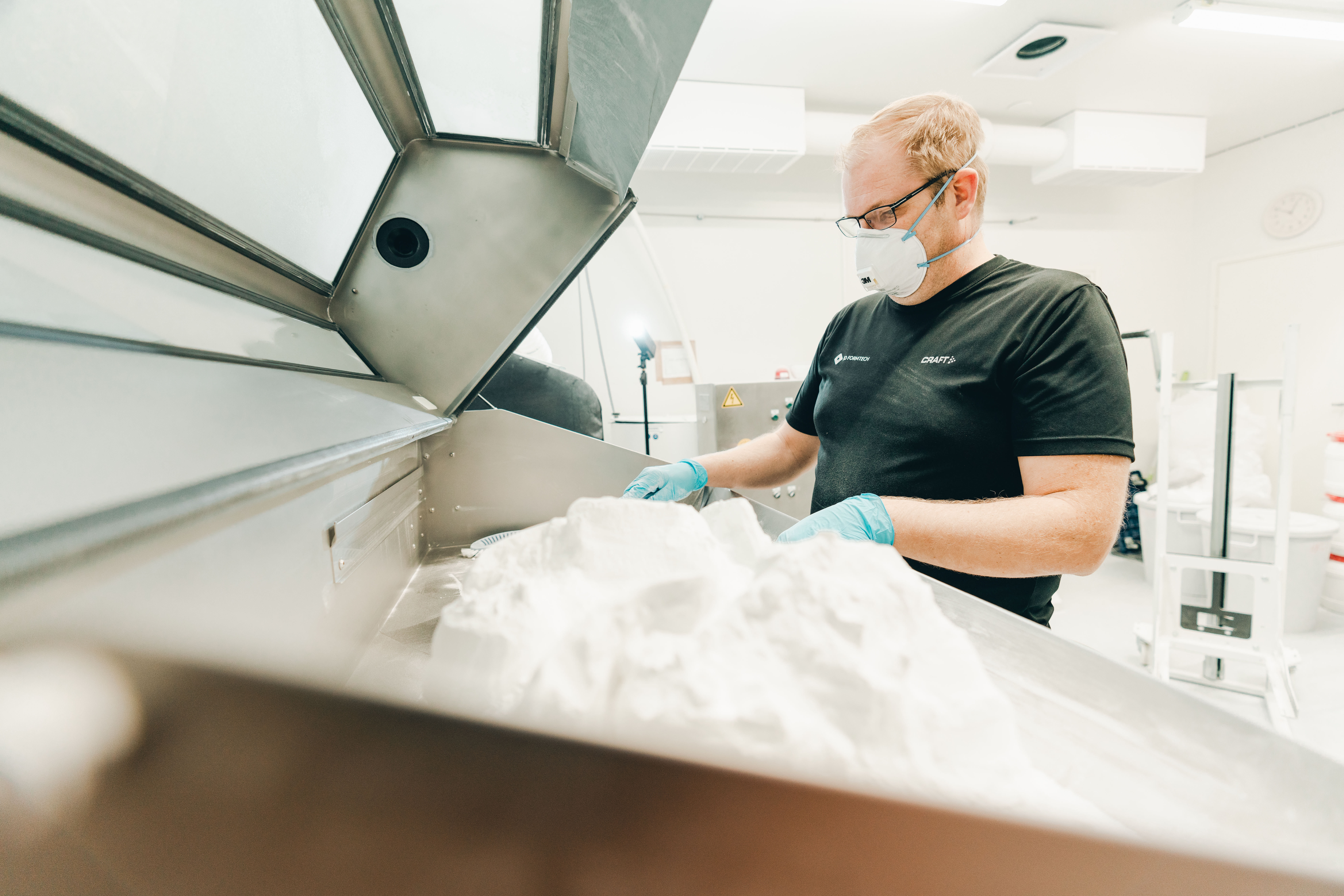 PAY ATTENTION TO THE MATERIAL YOU CHOOSE
When it comes to 3D printing, the choice of material really matters. Forget images of lightweight plastic gadgets, more and more industries in countries around the world are putting their faith in industrial 3D printing. The component to be designed largely determines the choice of material.
Various materials can be used in 3D printing plastic. The intended use of the 3D printed component dictates the material to be used, and many high-quality polyamide-based alternatives are available to choose from. Our 3D printing materials are certified, high-quality and very durable. Examples of the materials we use include polyamide PA 2200 and polyamide PA 2201 for use in the food industry and healthcare sector, glass-reinforced polyamide PA3200GF, alumide consisting of polyamide and aluminium, thermoelastic TPU material, fire-rated EOS PA 2241 material, and AdSint PA12 ESD carbon fibre powder.
There are various materials available for 3D printing metal, too. The durability and quality of EOS materials are based on decades of development work and an understanding of the material requirements of different industries. We use, for example: EOS Aluminium AlSi10Mg aluminium material, EOS MaragingSteel MS1 tool steel, EOS StainlessSteel 316L steel-based material, and EOS Titanium Ti64 light alloy.
All the materials we use are certified and tested according to the ISO standard.