At the turn of the year, we had access to production facilities twice the size of the previous ones. The new facilities are unprecedented in Finland. There are still preconceptions about 3D printing, from small machine shops in 3D printing at home. When it comes to industrial 3D printing, the truth is entirely different. We thought that the best way to see, hear and experience what industrial 3D printing is today is to invite our clients to visit us. In April, we organized an invitation-only event for almost 50 participants. Read what it was all about in this blog post!
From an idea born in the sauna of a summer cottage to the largest 3D printing company in Finland ✔️
The event was opened by Toni Järvitalo, CEO and founder of 3D Formtech, who got the idea for 3D Formtech almost 10 years ago in the sauna of his summer cottage in Keuruu. His previous career in mobile phone product development at Nokia gave him a glimpse of what 3D printing could do. However, there was a lot of untapped potential for 3D printing, especially in terms of end-product manufacturing.
In 2014, there was one printer, the first client, and a big dream. Over the years, major turning points included the first larger premises in 2017, the launch of metal 3D printing in 2018 and participation in the industry's biggest event Formnext in 2021 and 2022 (and we'll be back in Frankfurt next fall!). Participating in Formnext also opened our eyes to the fact that 3D Formtech is a high-quality, professional, and credible industrial player not only in Finland, but also worldwide.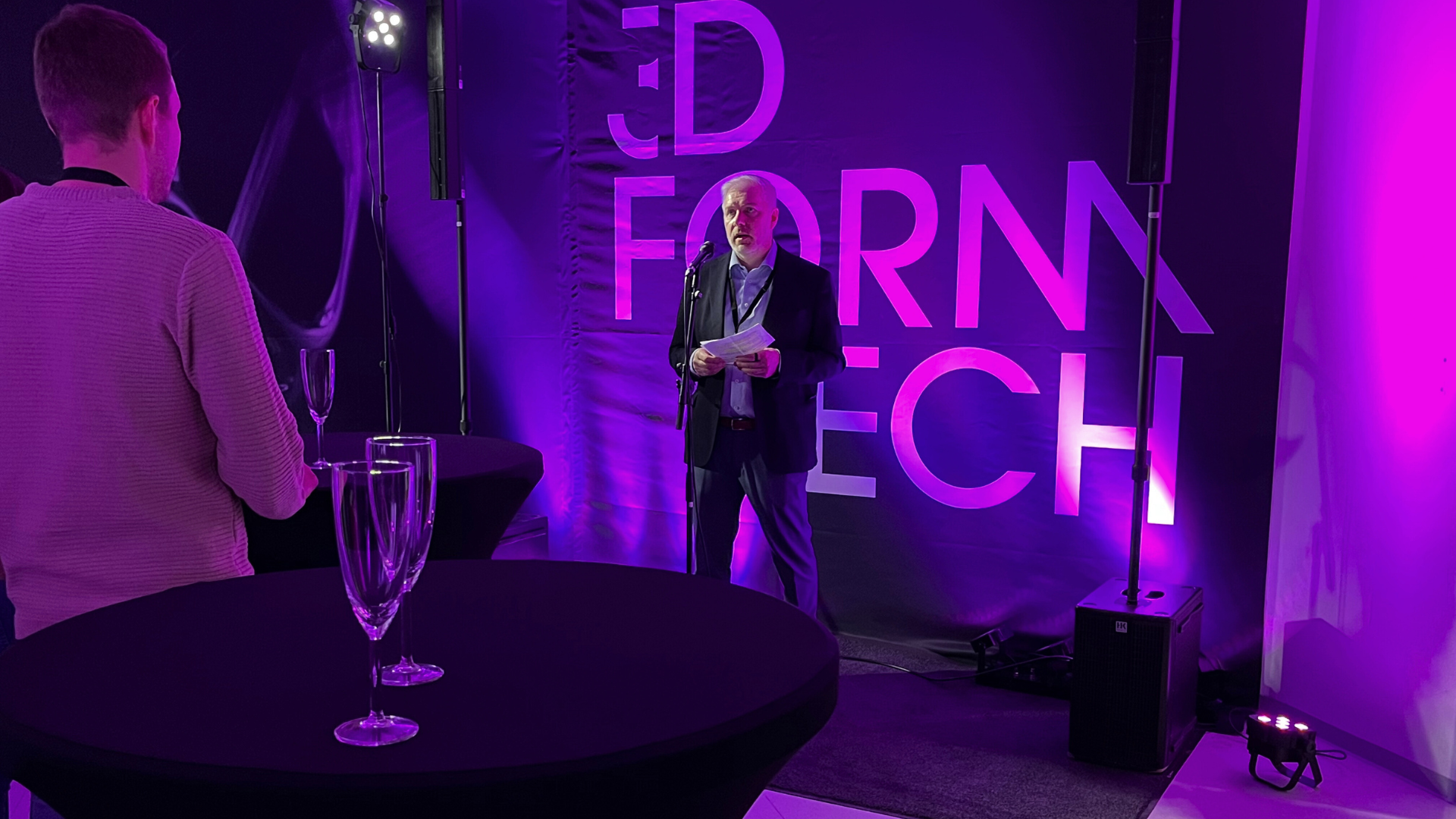 A lot has happened in almost ten years, but one thing has been at the heart of everything we do: quality. For us, it not only means mechanically, functionally and visually high-quality plastic and metal parts, but also quality processes, quality management, quality post-treatment, quality systems, and quality customer service. And this is the path we will continue to follow in the future: quality and customer satisfaction comes first.
State-of-the-art facilities and conditions ensure top quality ✔️
After the opening speech, we set off in three large groups to show our guests around the renovated production facilities. The tour started in the metal 3D printing facility, where we currently have two EOS M 290 devices. Guests were able to witness up close how 3D printing is done, hear about the different types of material options and ask any questions they might have on the subject.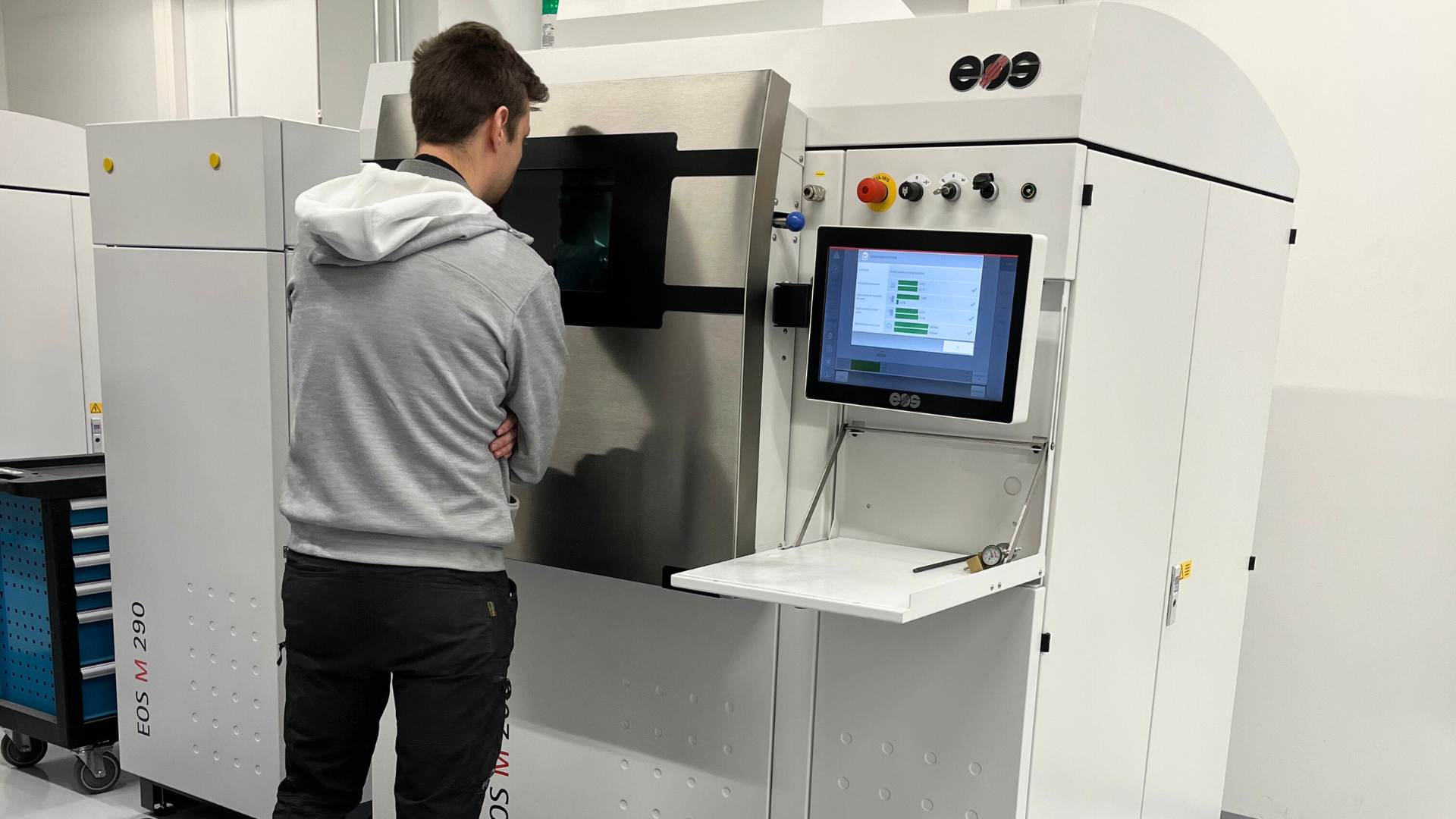 For 3D metal printing, we use DMLS technology, which, like SLS, involves laser melting. In practice, a 3D metal printing machine uses laser to melt the metal powder, layer by layer, until the desired part is ready. Finally, the excess powder and support structures are removed, and the parts are ready for post-processing. Did you know that metal parts manufactured with DMLS technology have a 99.99% sealing performance?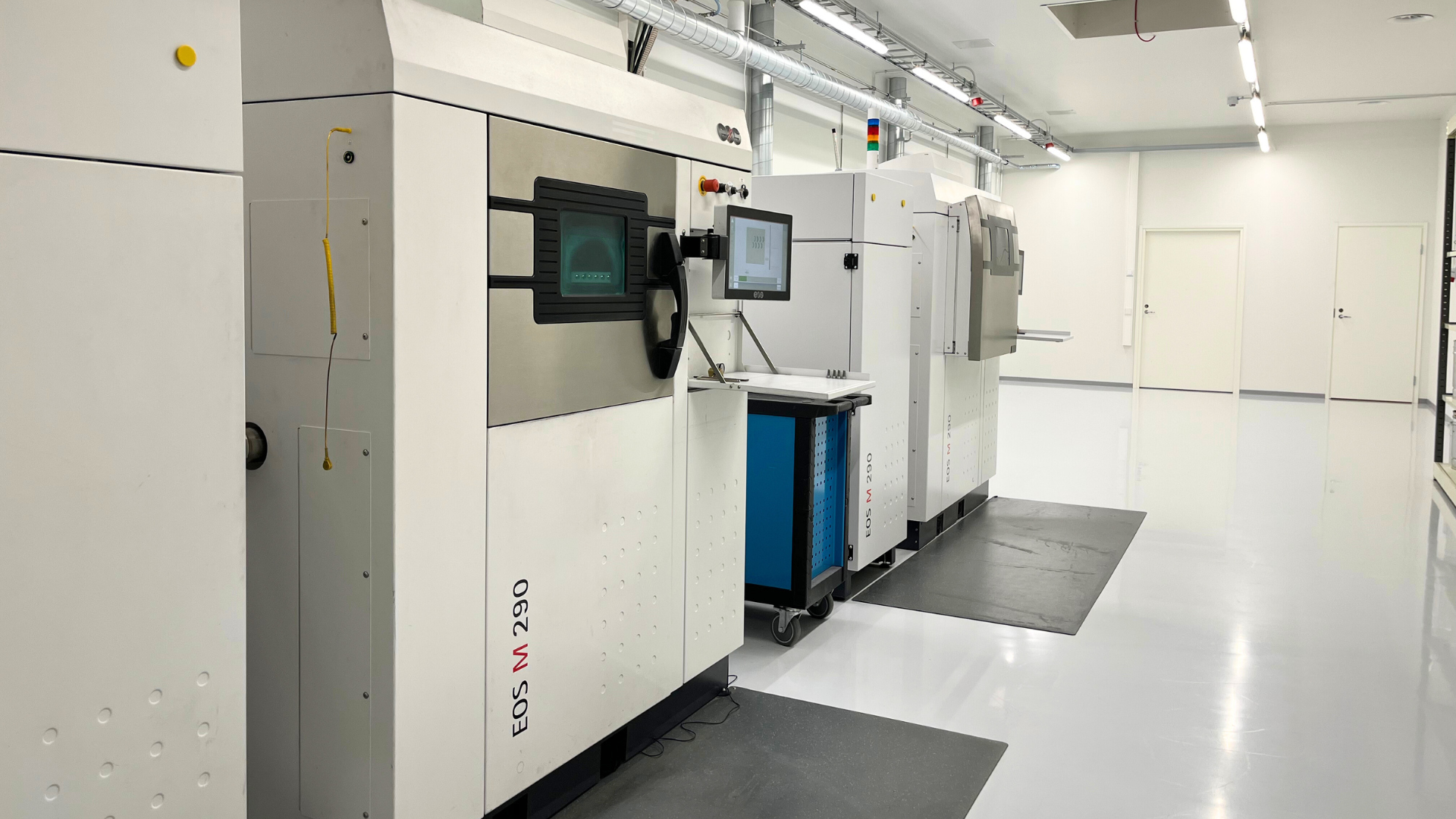 In the picture above you can see the space used for 3D printing of metal. In the new premises, special attention has been paid to airflow, temperature, and safety at work, for example, by processing material powders in a separate room.
Next, we visited a facility where printed parts can be professionally post-treated. A raw print is not a finished part, but it must at least be cleaned and, for example, excess powder and/or support structures must be removed from the pieces. For us, post-treatment means, for example, dyeing, coating, painting, shot peening, or polishing.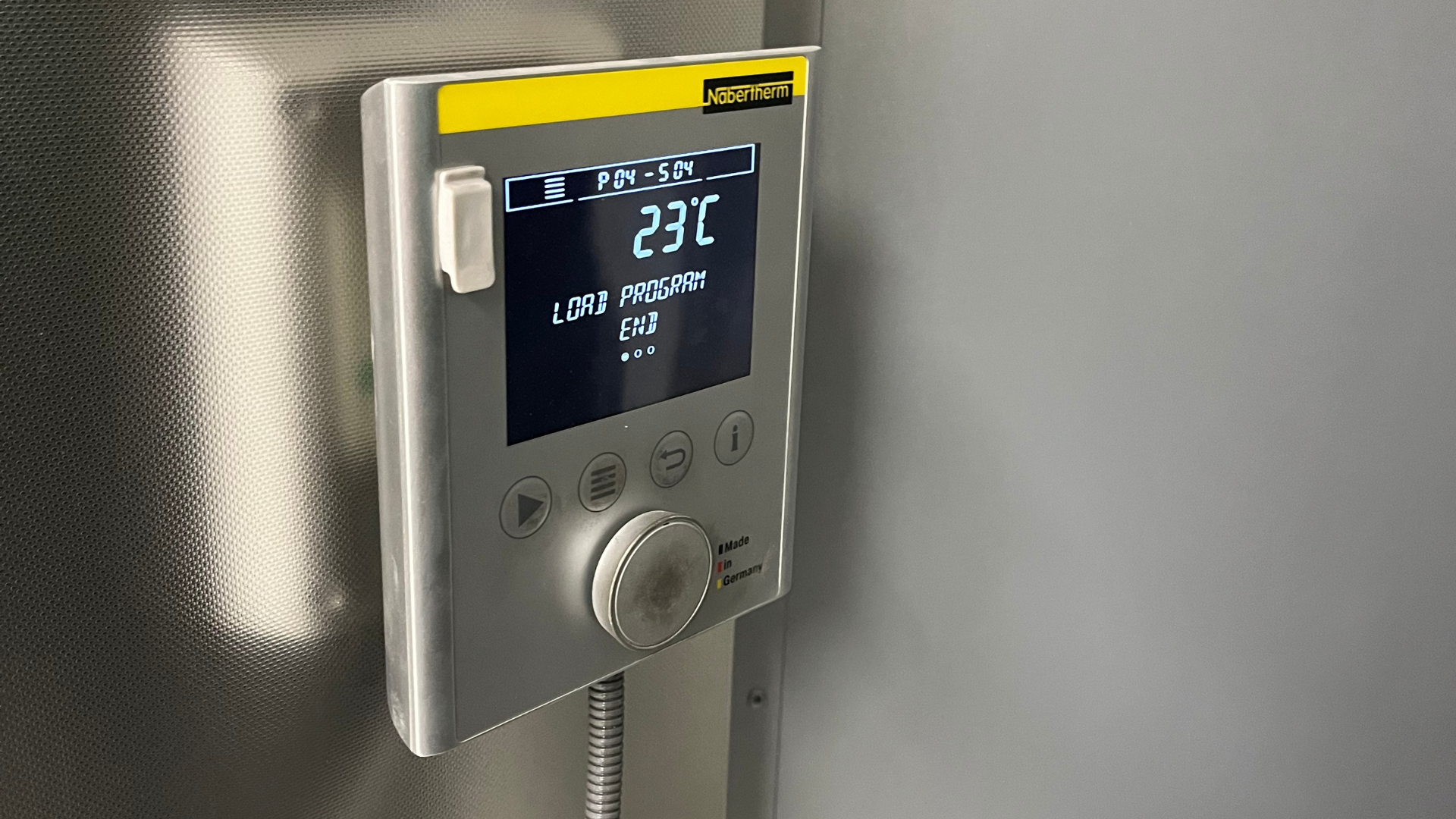 Next, the tour continued to another machine room, where there are currently seven machines for 3D printing of plastics. For 3D printing of plastics, we use selective laser sintering (SLS), a technique that uses laser to melt plastic powder, building up the designed part or piece layer by layer. For plastic production, we have a number of industrial-grade EOS 3D printers that print plastic 3D products quickly, with high quality, and cost-effectively. They print even the most complex designs with individuality and attention to detail. The printing accuracy is outstanding, and the surface quality of the models is excellent. What's new in the expanded facilities is, for example, that the temperature and humidity balance of the space is kept at constant, so that conditions remain the same every day of the year. This guarantees even better quality for our clients.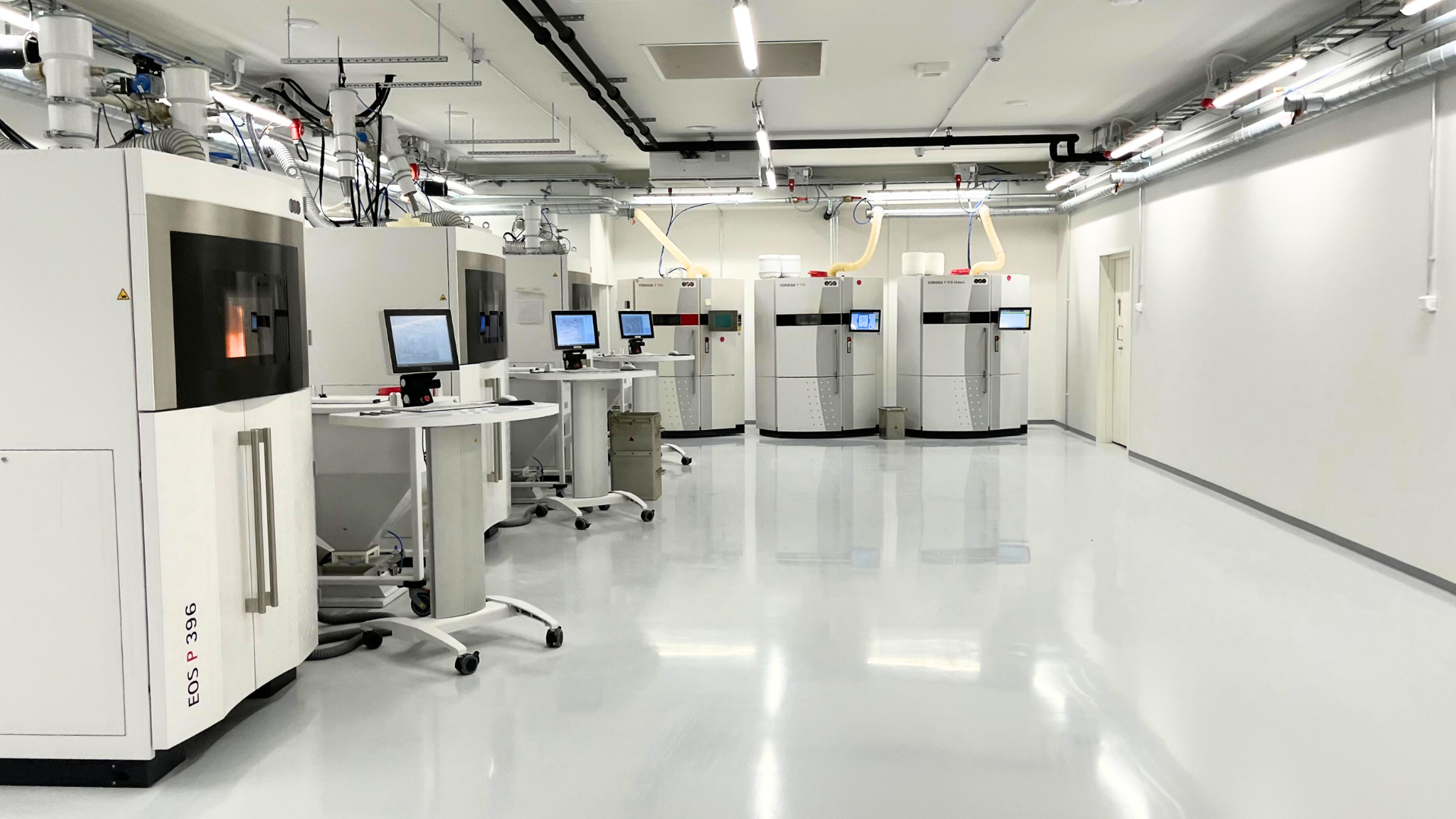 Top quality requires top conditions. Our production facilities surprised the guests, as few people knew beforehand how professional our conditions were. Even though the story started with one machine (which we still use, by the way!), the image of a small machine shop or a corner office room was scrapped by now at the latest. Every detail is carefully thought out, every process is documented, and every step is traceable.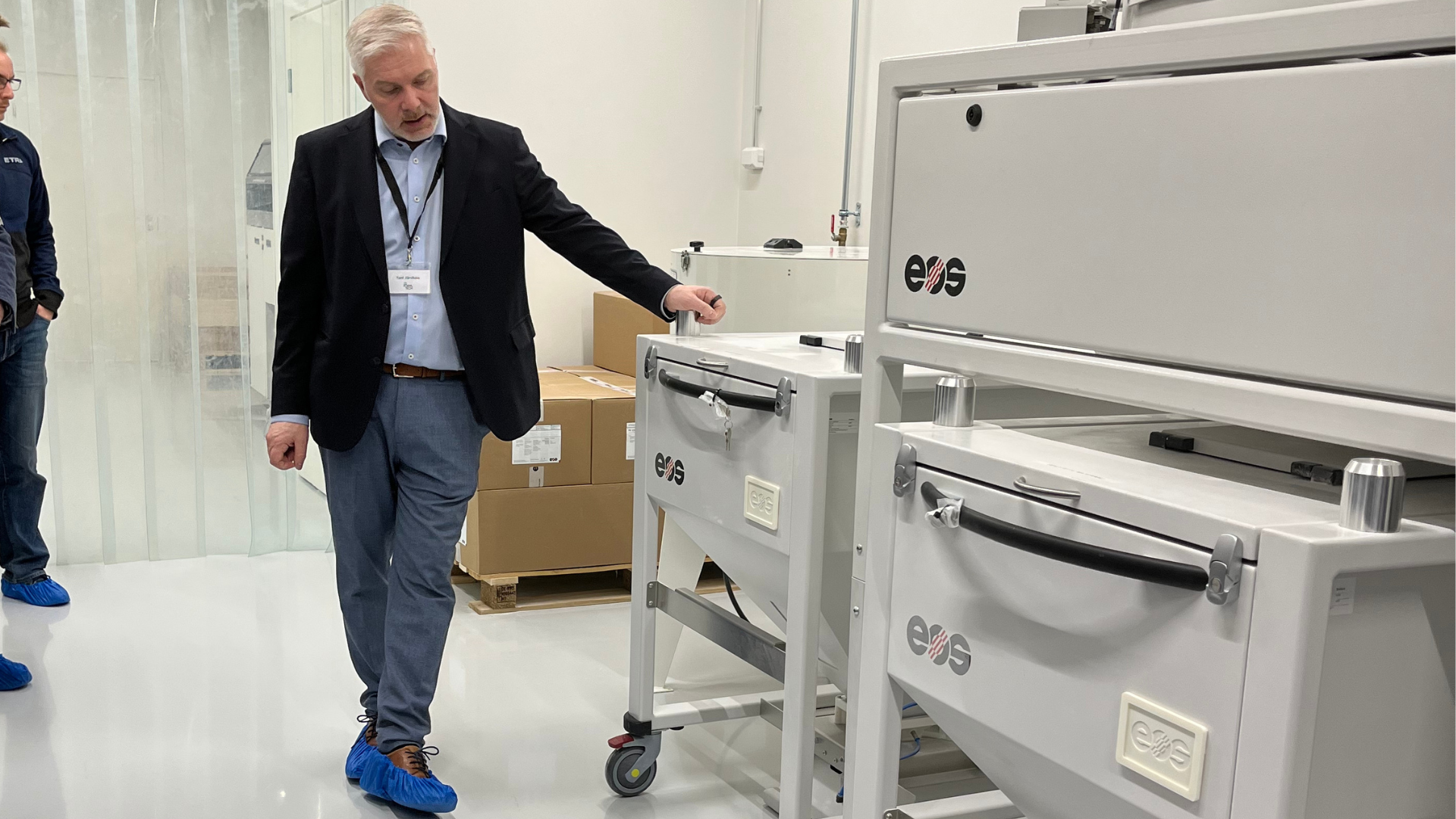 We had excellent discussions with our guests on issues such as materials and sustainability. Digital spare parts generated interest, and we also showed how, on average, 95% of the material can now be used, and only about 5% is wasted. We pay attention to the recycling of materials, and in the future, bio-based and biodegradable materials will enable even more ecological production of parts.
Post-treatment finishes the plastic and metal parts ✔️
The third stop on the tour was a small-scale exhibition, where guests could get up close and personal with different plastic and metal parts. We went through the many possibilities of post-treatment, and described our latest equipment purchase. Our newly-delivered AMT POSTPRO SF100 device for chemical polishing takes part performance to a new level. It not only creates finished parts, but also improves mechanical performance and durability, and creates a waterproof surface on parts. 3D Formtech is the first operator in Finland to offer this equipment to clients for commercial use.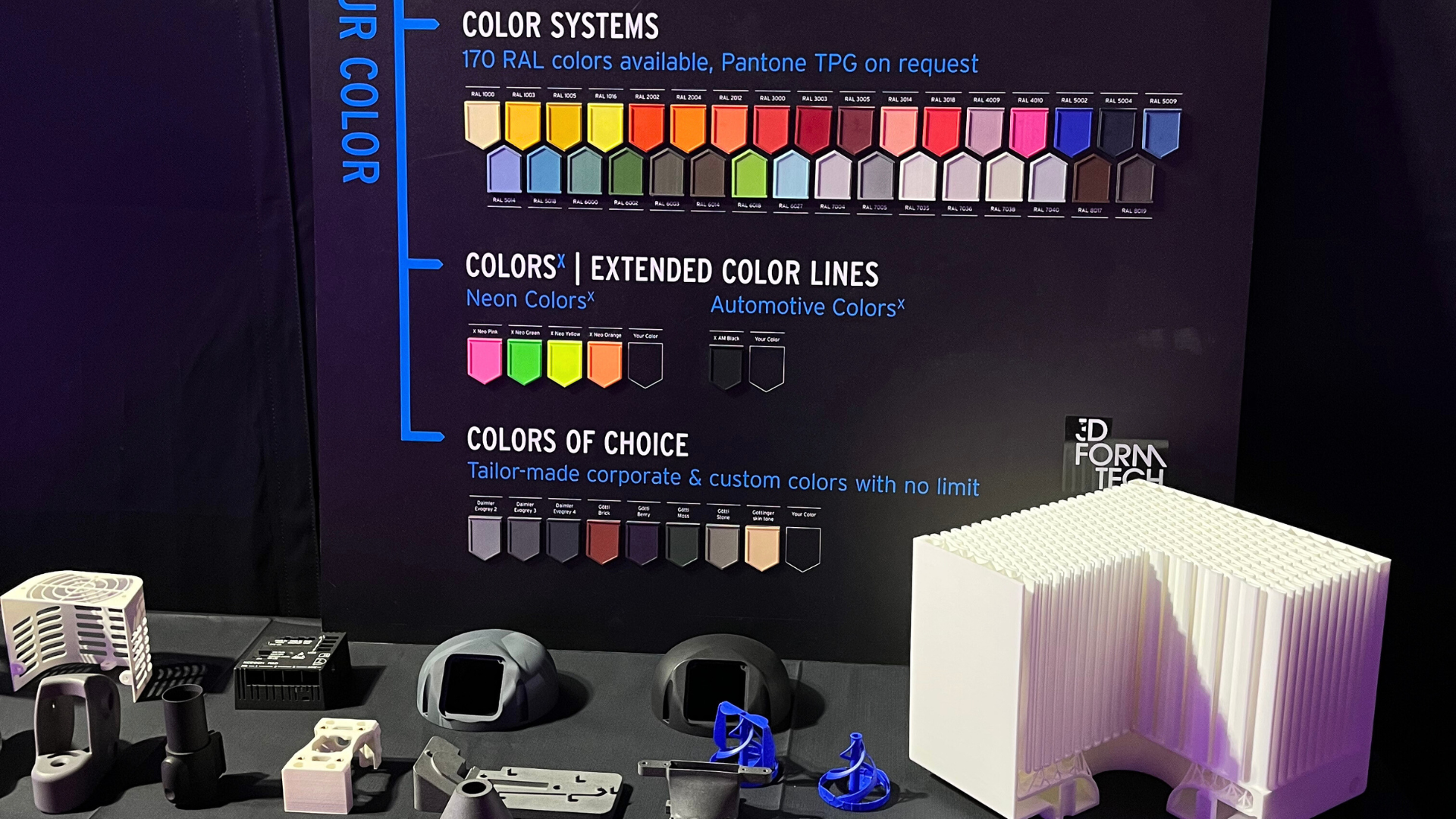 After our official sessions, our guests had time to network with other 3D printing enthusiasts over good food, drinks, and a show by stand-up comedian Mikko Vaismaa. We toured the visitors and gathered some comments on how they see the potential of 3D printing. This is what they said:
"One of the benefits of 3D printing is that it allows you to see if the part is what you wanted, and to make changes in an agile way. We are more than happy to work with 3D Formtech! The parts live up to our expectations, delivery is fast, and doing business is easy – we usually get a reply within an hour. It was impressive to visit the production facilities for the first time. This is a big contrast to the image of a machine shop, because it's really neat and systemic. It's great to see 3D Formtech grow!"
– Antti Viitala & Ville Kytölä, Muoviitala Oy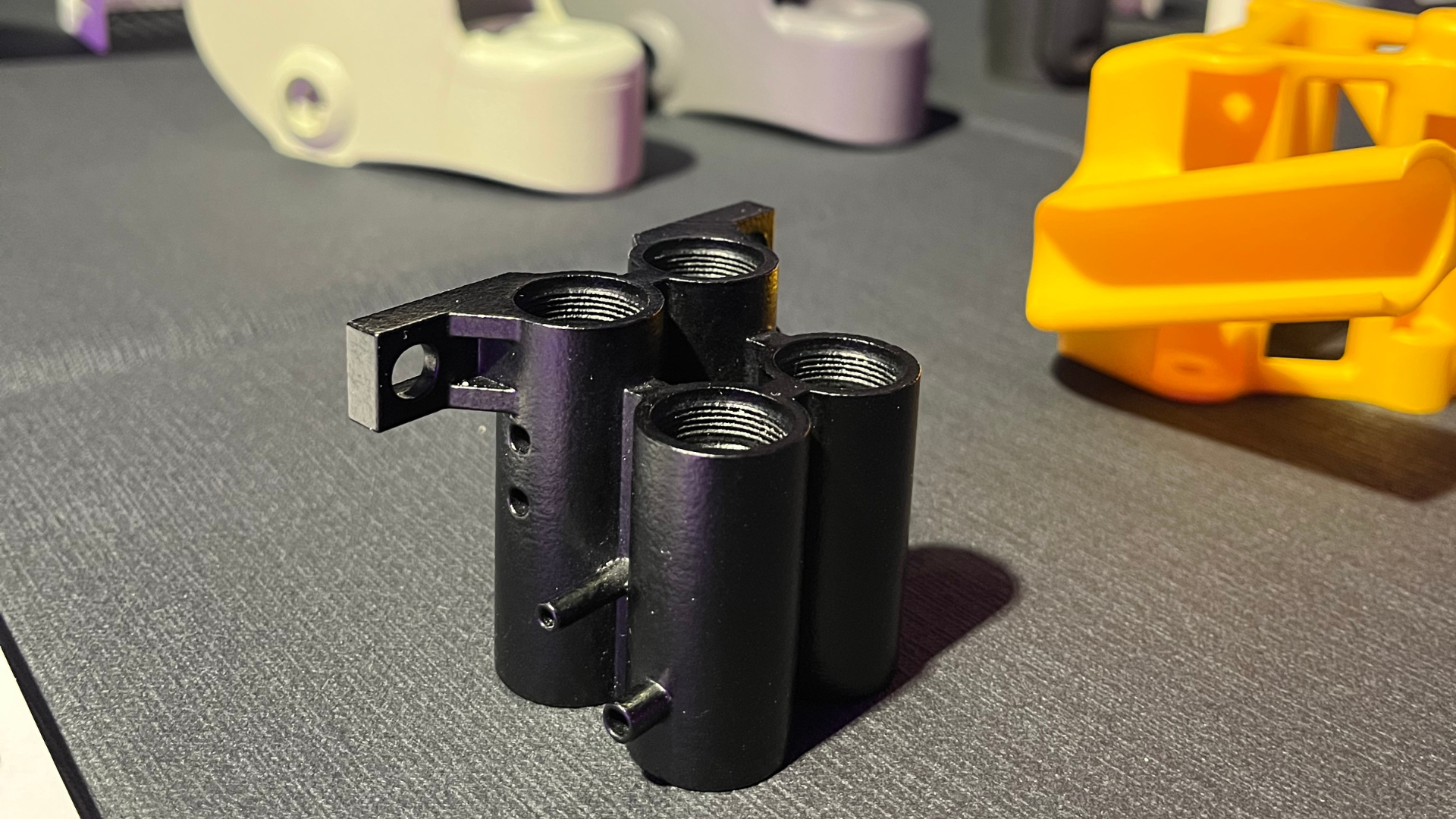 "3D printing is absolutely vital for us, as the drone has almost 100 components that are 3D printed. We have been clients for a long time, but this was our first visit to the premises. It would take a lot for me to switch away from 3D Formtech, as we have been really satisfied. There is no point in making molds, because the product is constantly evolving. 3D printing enables rapid product development and modifications to the part being manufactured. I think that the biggest obstacle to new things is history; you might think that "it's always been done this way", and therefore stick to a certain way of doing things. It's worth being open to looking at different options, because with 3D printing the whole product could be completely different from what you can imagine."
– Juhani Mikkola, Nordic Drones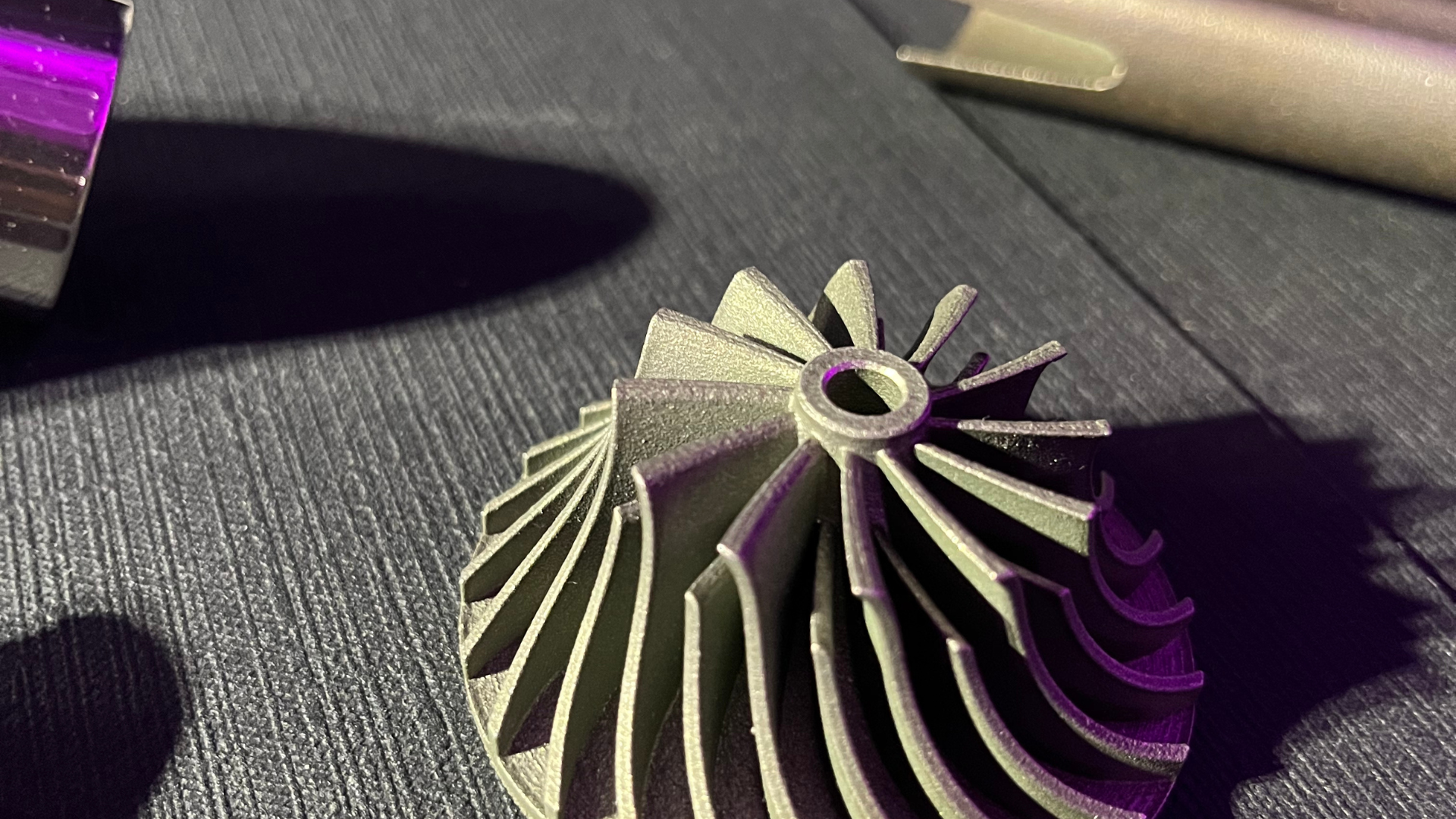 What's next? Our goal is to achieve one million components per year by 2026. It's not an easy goal, but we have never slowed down before.
Are you ready to explore the potential of 3D printing for your business?
Industrial 3D printing is already being used by almost every sector. When you want to take your product to the next level, it's worth exploring the endless possibilities offered by 3D printing and post-treatment. We are happy to help.
Book a free chat with a 3D printing expert