Are 3D printed parts of high quality and durability? That is a question that many people are still asking. At this point, it is important to remember that home 3D printing and industrial 3D printing are two different things. We manufacture a variety of parts for different companies and for very demanding needs – from prototypes to finished products and spare parts. It is therefore clear that the parts must be of very high quality. What does quality assurance at 3D Formtech mean? Keep reading and we'll tell you.
3D Formtech does not compromise on quality ✔️
At 3D Formtech, everything we do, also from a quality assurance point of view, culminates in the satisfaction of our customers. In our business, it means managing the entire production process and satisfying our customers' needs. That the parts designed and manufactured are fit for purpose, of high quality, and durable. On the other hand, it also means that the customer receives the parts ordered from us within the promised timeframe.
We have recently been awarded the ISO9001:2015 certificate for quality management. 🥳 The certificate is awarded on the basis of strong customer focus, motivation and effectiveness of senior management, process approach and continuous development. The certificate also helps ensure that customers receive consistent, high-quality products and services, which in turn brings many benefits to their customers.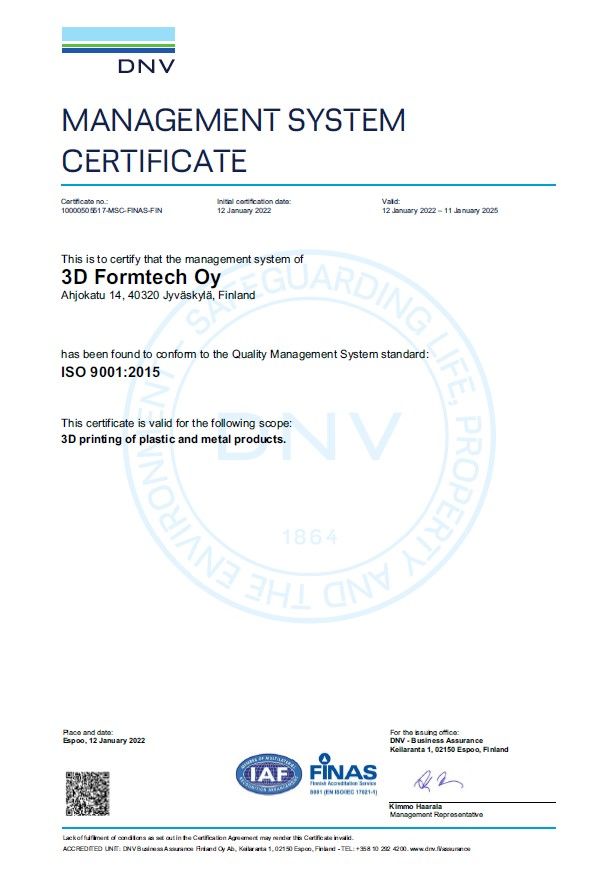 In our everyday life, we implement quality management in the following ways:
1) Materials
One of 3D Formtech's competitive advantages is the quality of materials used in 3D printing of both plastic and metal. All the materials we use are certified and tested to ISO standards. We always source materials either directly from manufacturers or through partners, such as an equipment manufacturer. This provides us with comprehensive test reports, for example, and we know what kind of pieces have been produced from the material.
Material certificates tell you, for example, what different materials contain, what properties they have, and what they are suitable for. For example, polyamide PA 2200 is also suitable for use in the food and healthcare sectors. The material is approved for food use under the EU directive, and has been awarded ISO certification (bio compatible). The material is also approved by the US Food and Drug Administration (21 CFR, §177.1500 9(b)). TPU is a thermoelastic material that combines the properties of rubber and plastic. Pieces made of TPU are soft and flexible, yet durable. TPU has good tensile strength and abrasion resistance. EOS PA 2241 FR is a flame retardant polyamide material suitable for laser sintering and has been awarded the aerospace industry standard JAR 25.
>>Read more about the materials here
2) Equipment
Materials matter in terms of quality, but so does the equipment. 3D Formtech has several EOS 3D printers and DyeMansion post-treatment equipment to ensure even better surface quality and color. We have new equipment, which in turn translates to faster and more accurate prints. In particular, we have received good feedback from our customers about the surface quality of the parts we print.
>> Read about Aeromon Oy's experience here
In the spring, we told you how we also invested in two new 3D printers for plastics and material handling equipment. The new material handling equipment reduces the amount of manual work by automatically mixing the plastic powder, resulting in better and more consistent powder quality. The equipment also ensures that the moisture balance of the powder is maintained, which in turn has reduced the number of interrupted runs, and improved the reliability of supply to customers. In everyday life, quality assurance of the equipment is ensured through regular maintenance and calibration, as well as various test runs.
It is extremely important for us to keep the high quality of both the work we do and the prints we produce in the future. That's why we will continue to invest in equipment in the future, so that we can offer our customers high-quality, durable end products that are suitable for demanding applications.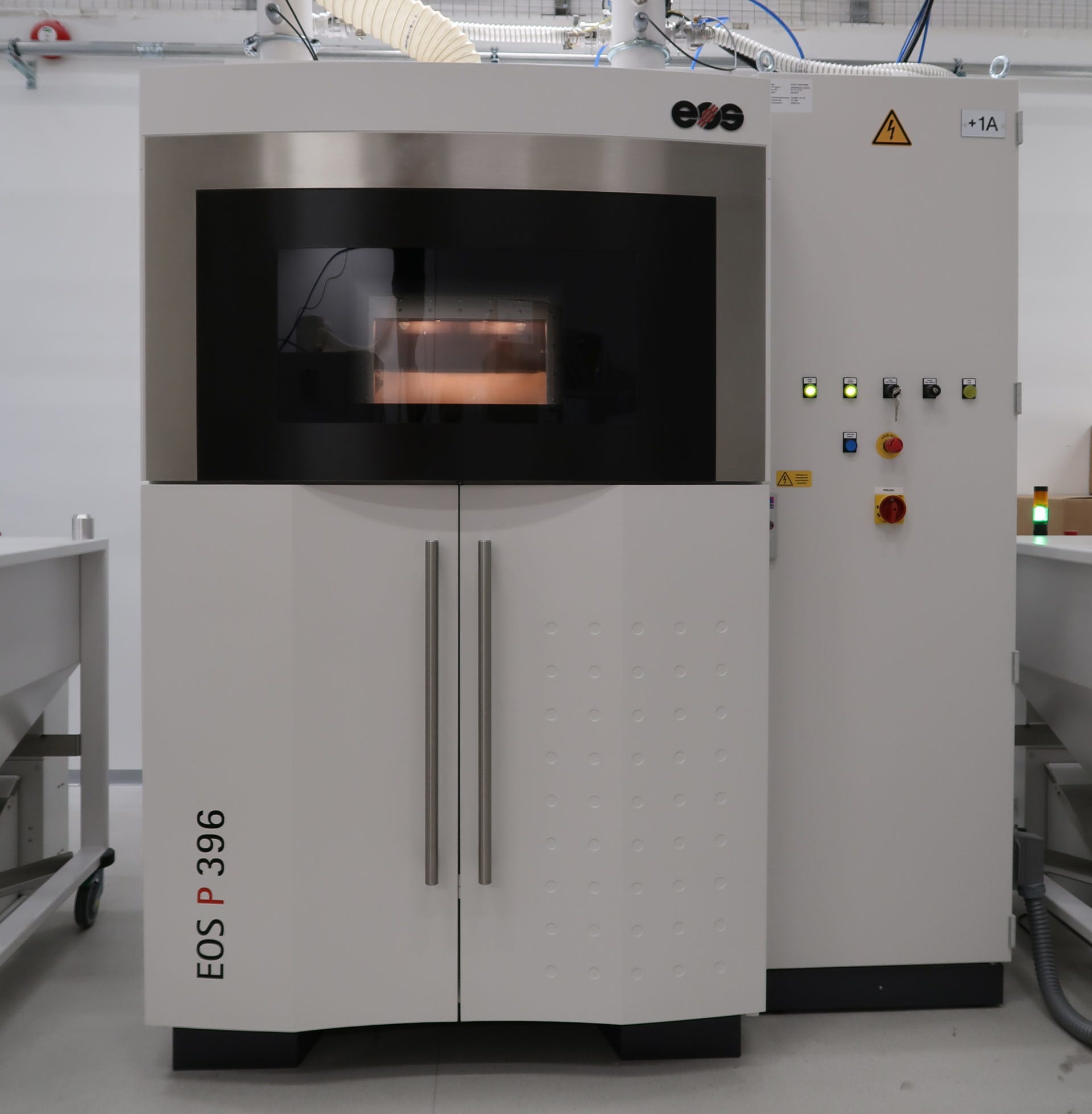 3) Parts and products
How do we ensure that the finished part or product is as desired? In 3D printing, the saying "well designed is half done" applies. So, it all starts with the design and 3D modeling of the desired piece. As a comprehensive 3D printing expert and partner, we are not only happy to assist you with the manufacturing, but also with the design. We ensure the quality of the parts we make by testing products, carrying out tensile tests and making sure that processes are in order. We also invest in the post-treatment of parts. Depending on the material, post-treatment can include, for example, dyeing, coating, ball blasting, polishing or heat treatment. All the post-treatment materials we use are suitable for industrial printing and are specifically manufactured for us. So, we know what each substance contains, and the finished part represents a high standard of quality of professionalism.
4) Customer service and internal processes
For us, quality is not only about quality parts and products, but also about quality customer service and processes. We have optimized our ways of working to the highest possible standards, and are constantly improving. We also ensure that our internal processes work, and that our staff develop. The aim is to produce the highest quality end products for industry – not forgetting prototypes and spare parts.
We receive special praise from our customers for our good customer service and cooperation. It is important for us to listen to what the customer needs, and also to proactively propose suitable solutions. For example, this is how a customer commented on working with us: "I have found 3D Formtech to be a partner whose expertise and know-how is so valuable that we should not even consider doing 3D printing ourselves. Right from the start, we got a really good picture of the different possibilities and good ideas on how things could be done even more efficiently. We have also asked questions actively and have always received support and answers to difficult questions. And we are always kept up to date with everything!"
Why does quality matter? 🤔
We help our customers make better products for their customers. So, think about what kind of quality you want to represent? Can the manufacturing method of partner you choose provide the quality you are looking for? When choosing an industrial 3D printing partner, it is worth paying attention to materials and material suppliers, equipment, processes and quality assurance. Find out and ask if the partner has any quality certificates or manufacturing guarantees. Dare to be curious, and ask. A competent and high-quality partner will be able to answer your questions.
Do you know what industrial 3D printing from plastic and metal can do for your business? Contact us, and we'll figure it out together!