Every business needs competitive advantages to remain viable. Something that truly differentiates you from your competitors and is relevant to your clients. In competitive sectors, gaining and maintaining a competitive advantage in a global market is becoming increasingly challenging. The limitless possibilities offered by 3D printing are worth exploring to build your competitive advantage and strategic leverage.
Who is 3D printing for, and why is it a strategic choice?
3D printing brings unlimited possibilities to your hands
There are still many prejudices and misconceptions about 3D printing, which means that its full potential in the manufacturing industry is not being used. Now is the time to discover the real benefits and opportunities of industrial 3D printing for your industry and business. The possibilities of 3D printing are endless: it can be used to produce prototypes, individual components, or finished products with a stylish design. 3D printing brings new, agile options and possibilities for marketing, production, products, gifts, prototypes, or really anything that you can think of.
If your perception of 3D printing products is mainly that they are clumsy and poorly constructed plastic contraptions, it is important to know the difference between home and industrial 3D printing. Today, a Boeing 777, for example, contains 600 different 3D-printed parts, including critical components ranging from turbine blades to fuel nozzles. So this is the point where you throw away any preconceptions about the durability of 3D printed parts.
If they keep aircraft in the sky, they are guaranteed to last.
3D printing is first and foremost a strategic choice
3D printing is a rapidly evolving industry, so it's worth making sure that you're up to date with its latest possibilities. As mentioned, it can be used to make almost anything, wherever plastic or metal is used. Every company should find out what 3D printing could mean for their products and production, not only now, but above all in the future. Winning strategies are fine-tuned in advance. Think about whether you want to be a pioneer in your field or your competitor will be the first to use 3D printing.
3D printing is an industry that is evolving by leaps and bounds, so what was known five years ago is now outdated. If one thing is certain, it is that the world is changing, and technology is changing even faster. What seems impossible today can be possible before you know it. While the latest smart solutions and future scenarios may raise doubts, they usually have one common goal: to make our lives easier. And 3D printing is indeed not only the future, but also the present.
Every company thinks about what the winning strategy is, and how to create a real competitive advantage. 3D printing can bring a whole new dimension to your business, so it's worth going through your business piece by piece to see if there is a stage where 3D printing could be useful. Pay particular attention to product construction, prototyping, initial production, spare parts, and the entire product lifecycle – is there a phase that could be handled more agilely, more efficiently and better with 3D printing? Or could 3D printing be used to do things in a whole new way?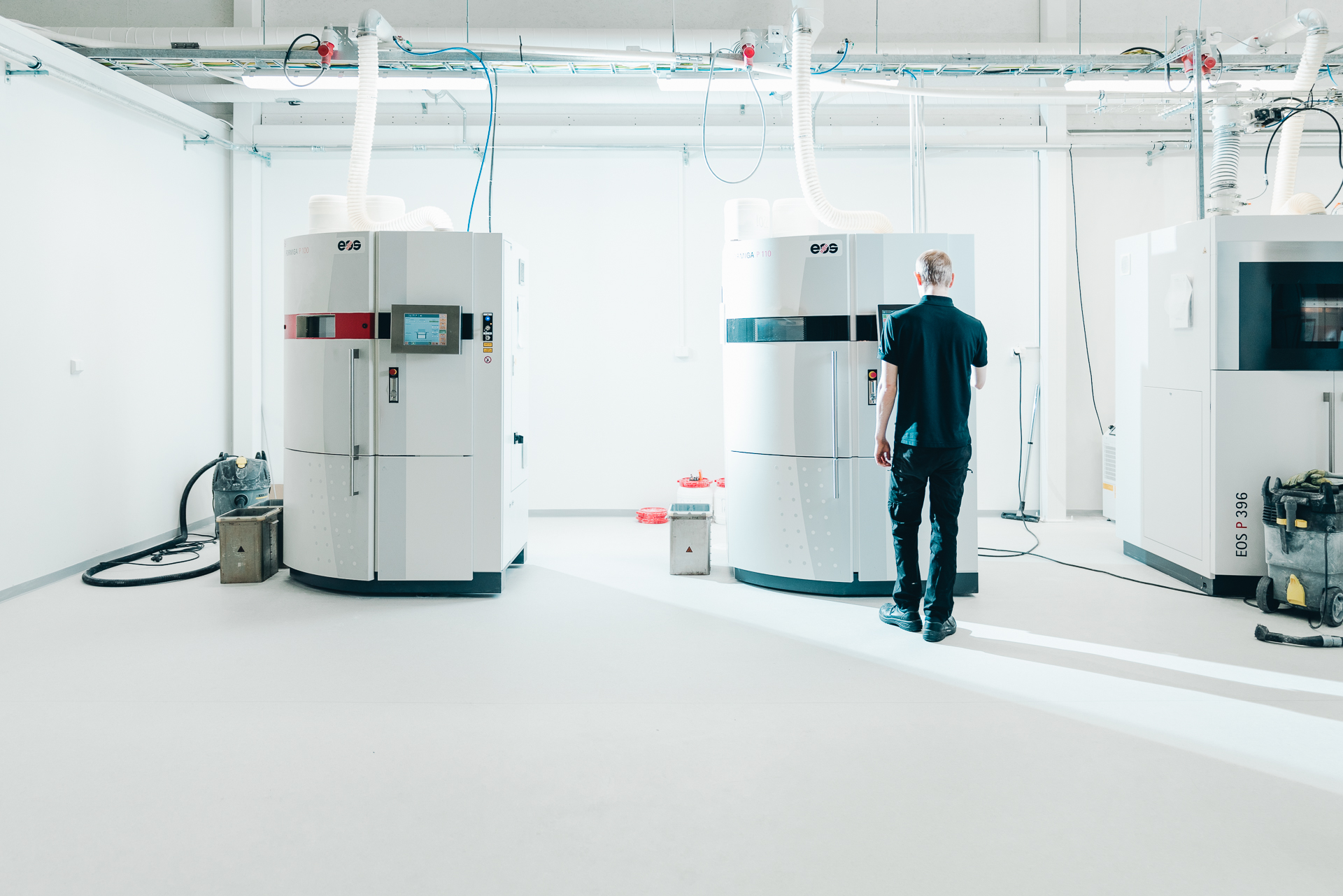 What benefits can 3D printing offer?
3D printing offers a wide range of benefits for businesses. Among other things, it can help remove many design and industrial barriers and speed up product design. 3D modelling, on the other hand, allows new parts and products to be developed and manufactured in an agile way. 3D printing can also bring strategic benefits in terms of simplifying the supply chain and increasing the security of supply. For example, ordering spare parts from abroad always involves certain risks, and to avoid them it is worth exploring the possibilities of Finnish 3D printing.
Our clients have gained a wide range of business benefits from industrial-grade 3D printing. Robotech, a robotics and automation company, summarized the benefits of 3D printing as better and more versatile products, improved efficiency, more freedom of design, new possibilities, speed, accuracy and quality of printing, cost savings, quality materials and, in general, optimization in all aspects, be it in terms of weight, appearance or usability.
>> Read the Robotech story here!
World-renowned wellbeing builder Orion, on the other hand, has used 3D printing for several parts traditionally made by injection molding. They are now able to produce different parts more cost-effectively, and delivery times have reduced from 2–3 months to even a week. As a result, spare parts, auxiliary tools and wear parts can be put into production quickly, and 3D printing has made it possible to solve challenges that are not possible with other manufacturing methods.
If you are interested in industrial 3D printing, follow these steps
Ordering a single part, browsing articles on 3D printing or asking others about their experiences is a good start. But that doesn't tell you exactly what 3D printing can do for your business. The possibilities are next to limitless, and there is a huge amount of information available today, which can make it difficult to see the potential and the opportunities. What makes 3D printing different from other manufacturing methods is that you no longer have to go beyond what the manufacturing method can do, but what you want it to do.
To find out about the possibilities of 3D printing, consider the following:
What would we like 3D printing to help us with?
How are parts made now – what's good and what's bad?
What are we currently spending time and money on?
What kind of parts would we like to produce (e.g. finished products, prototypes, spare parts, tools, etc.)?
What do we want from the technology we use?
How are the parts designed?
Are the parts made entirely in-house, partly in-house or entirely through a partner (all options possible)?
3D printing is first and foremost a strategic choice. It can be one of your company's competitive advantages at best, but only if it is genuinely embedded in your strategy, adequately resourced, and driven forward.
Nothing changes if nothing changes.
3D printing is about much more than just printing. If you want to explore its potential, add it to your strategy, and contact 3D printing experts who help you see the different options you have.
At 3D Formtech, we are experts in the field and we are happy to tell you what unlimited possibilities can mean for you. You don't need to know it in advance, we are here for you. Contact us for more info!