The best moment to start 3D printing was yesterday, but the second best is today. Industrial-grade 3D printing is no longer just a technology of the future – it is already here. If you want to keep up with progress, keep reading. How does 3D printing compare to other manufacturing methods? What is the situation in Finland and at the rest of the world? Where and how should you start if you are interested in 3D printing? This blog post answers these questions!
Is it worth 3D-printing everything? 🤔
Today, 3D printing can be used in many industries, such as automotive, aerospace, marine, textiles, construction, pharmaceuticals, metal and engineering, and many others – even in the food industry for packaging, to name just a few. The materials used are industrial-grade plastic and metal, which meet the most stringent requirements. Machines can run all year round, 24 hours a day, and do not require a huge workforce, which makes production more efficient and faster. 3D printed parts are also often more durable, lighter and suitable for more complex needs. So, is 3D printing suitable for everything? No, it isn't. Is it a better alternative than other manufacturing methods? It depends on the situation. There is a lot of hype about 3D printing, but not everything is worth printing now or in the future. 3D printing will not replace other manufacturing methods, but it will take its place alongside other methods.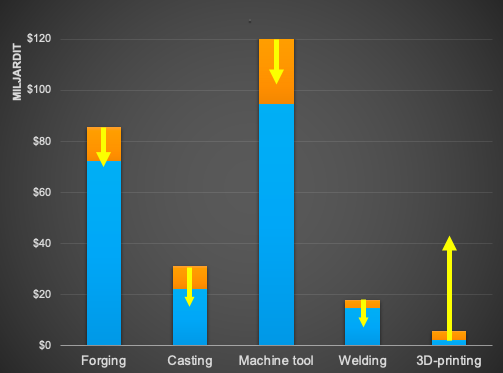 The graph illustrates how 3D printing has a growing role compared to other manufacturing methods. According to research, the global 3D printing market is expected to grow at a compound annual rate of 20.8% between 2022 and 2030, reaching $76.16 billion by 2030. At 3D Formtech we also have an annual growth rate of 20-30%. It can be concluded that industrial 3D printing is here to stay, and its potential for your business should be explored as soon as possible.
What can we learn from the world? 🌍
While industrial 3D printing may still seem like a new manufacturing method in Finland, many countries are already many steps ahead in its use. However, this should not be considered discouraging, but above all a model to follow. Doing anything in a new and different way requires courage and the ability to look to the future. As we've stated before, 3D printing is first and foremost a strategic choice, and can give your business a significant competitive advantage. Many large international companies have clear targets in their business plans for how many parts they want to 3D print or how to increase the role of 3D printing. With clear objectives, indicators and budgets, you get results and impact.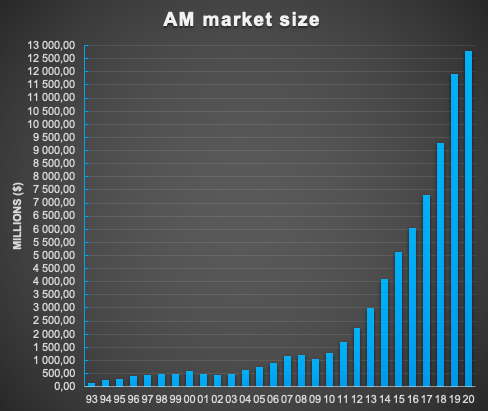 What does the future of 3D printing look like? Pretty bright! Covid has only accelerated growth, as many companies faced new challenges with availability. In our free expert guide "Trends and the future of industrial 3D printing" (available only in Finnish at the moment), we told you how, according to research, nearly 75% of people in disruption chains report that in 2020, the pandemic has caused some kind of disruption and interruption to their company's logistics. Almost half of these companies did not have a plan in place beforehand on how to cope with possible disruptions. So it's not necessarily worth ordering individual components or spare parts from the other side of the world. 3D printing is many times faster, more agile and more environmentally friendly.
Speaking of logistics, have you heard of digital libraries? With injection molding techniques, a single part may be cast in 2,000 pieces, of which only half are needed in the end, leaving half to gather dust in the warehouse. Digital libraries refer to parts being in digital form in a library, which can be used to produce the parts on demand.
Interested in 3D printing, where to start? ✔️
If nothing changes, nothing changes.We encourage companies to take a bold, piece-by-piece look at their business and see if there is a phase where 3D printing could be genuinely beneficial. Pay particular attention to product construction, prototyping, product development, spare parts, and the entire product lifecycle – is there a phase that could be handled more agilely, more efficiently and better with 3D printing? Or could 3D printing be used to do things in a whole new way?
>> Read more about 3D printing with SLS and DMLS!
You don't have to handle it on your own – we're here to help you. The earlier you bring in a 3D printing professional to talk to you, the better we can help you from the moment you start to design your part correctly. Did you know that we also offer training tailored to your company's needs? There is a lot of information available, but it is of no use if it cannot be put into practice or if it does not serve you in the best way possible. We help you understand in concrete terms what industrial 3D printing is all about, how it fits your business and products, how to optimally design parts for 3D printing, and which techniques or materials to use. You may be in the early stages of 3D printing, or you may already have experience in, for example, prototyping, but you want to have your final products 3D printed, as well. So let's get together, test and see if the product works in 3D printing!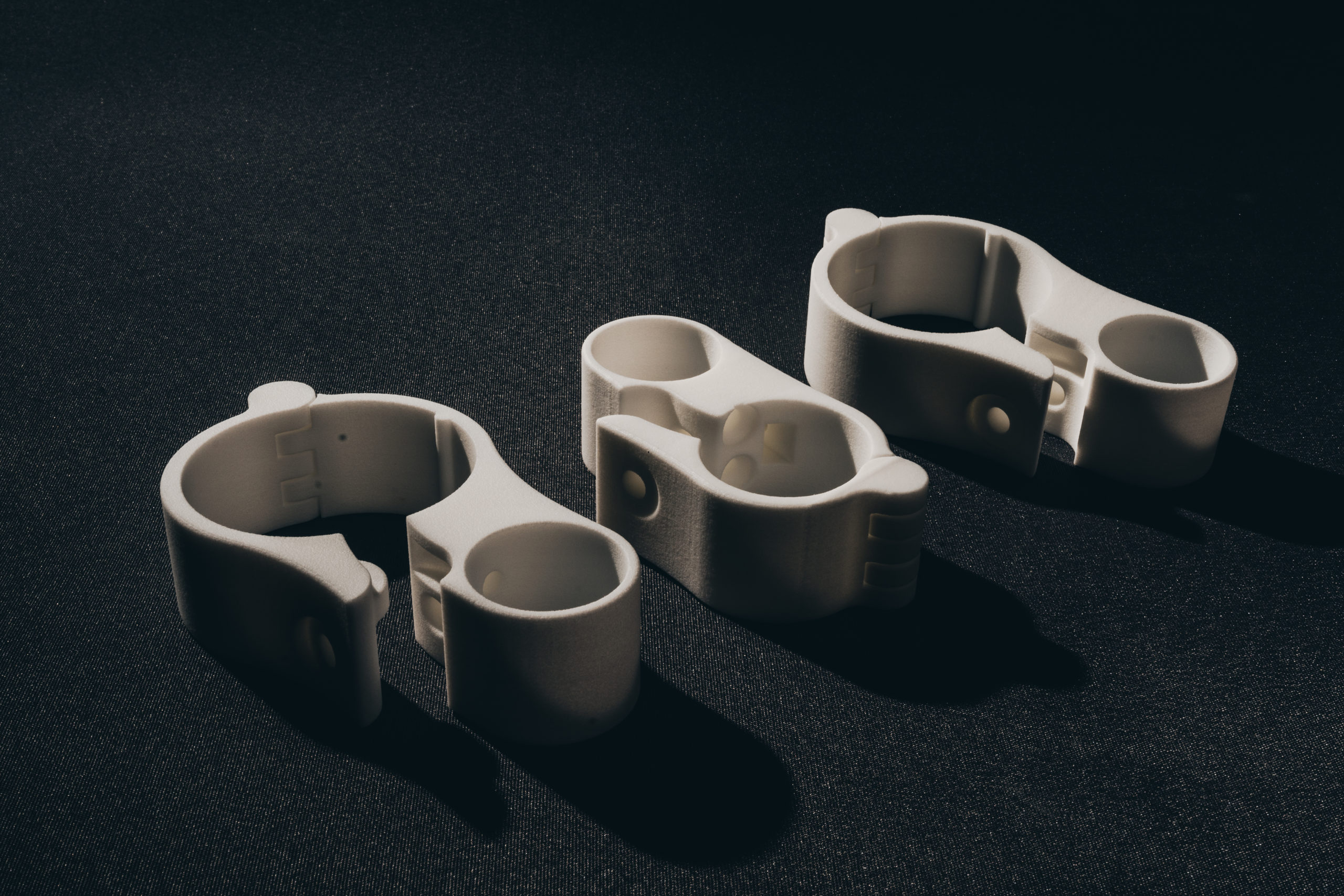 Here are three more tips on how to get the most out of 3D printing:
✔️ Figure out the role and objectives of 3D printing – and write them down in your strategy.
✔️ Dare to make investments. Look not only to the present, but also to the future. How much do you budget for product development, for example? Is the aim more efficient production?
✔️ You're not on your own. Involve a 3D printing professional as early as possible. We can tell you exactly how you should use 3D printing. We can act as a comprehensive partner or as a trainer.
Contact us for more info!